The Villages
of Provence
This is Provence at its most picturesque! Our goal is to give you a rich and rewarding experience you will remember for years to come, and the opportunity to explore this dazzling region like no one has offered you before. The Provencal villages that we have chosen in our itinerary are graded as among the prettiest of France and surrounded by its most picturesque countryside. Drive through these colorful villages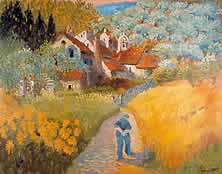 outlined by lavender fields, olive groves, and vine covered hills. Be swept away by a landscape contrasted by the pure white of the limestone cliffs, while experiencing the renowned warm and friendly welcome of Provencal people. This unique region of France is definitely intriguing by its many different characters: the verdant beauty, the stunning gardens, the ancient sites, the medieval chateau, the fascinating museum, and obviously the love of good food and wine. We also have selected the most splendid proprieties for your stay to make you comfortable while visiting this superb region.
---

D-Day
60th Anniversary Tour
Space still available!
Call for details

---
Northern Italian
Mountains & Lakes
Italy is renowned for the pleasures and passions of life: stunning art, sumptuous food and delectable wines. If you are interested in a new travel experience, the northern regions could be the place for you. Take a trip up to the grand lakes; they are the most scenic places in the country. Savor a new zest for life with our itinerary, which will take you through three different regions: Lake Garda, Lake Como and Lake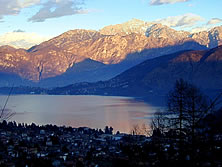 Maggiore, each offering a sensation of serenity and well-being. These enchanting places beckon those who wish to go there for a romantic interlude. Discover the incomparable beauty and the magic of Italy, with a unique blend of stunning lakes, soaring mountains, and lush rolling hills. Romantic towns, little fishing villages and beautiful 17-18th Century villas are scattered around the lakeside while above are pastoral alpine meadows and rocky peaks. This is the kind of trip that dreams are made of.
---
Bike Tours in Paris
and its Surroundings
Imagine biking through the parks and sidewalks of Paris, a fabulous way to discover the city of light at its best! Art du Voyage offers for the fun-loving English speaking visitor a complete experience: as the wind blows through your hair and the sun warms your face, you will receive a great orientation, informative historical and current-day information on the most beautiful monuments of Paris, heaps of unique and fascinating stories, and excellent personal service from your guide. The use of a super-comfortable bike and advice about what to do while in town, an exciting, informative and educational experience, a chance to meet other fun travelers and simply the best day of your stay. It's new with a ton of fun, be sure you glide with the original!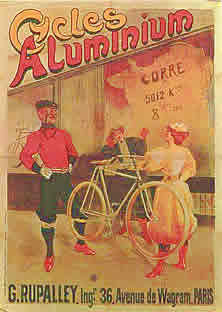 The Day and Night Tours of Paris are completely different and wonderful in their own unique ways. Art du Voyage also offers you the opportunity to leave Paris and visit the magical palace and gardens of the Royal Chateau of Versailles; a full-day tour excursion with a picnic on the lawn, with a parnoramic view of the splendid Chateau.
Discover Claude Monet's Gardens in thousands of brilliantly colored flowers and water lilies floating on the pond, across by the famous Japanese bridge: A great opportunity to see the beautiful Normandy countryside on your bicycle.
Finally, Art du Voyage is ready to help you make the most of your family's vacation in the City of Light, offering private tours for small groups. It consists of your personal group with a guide and can include a dinner, a special route, a birthday party, anything you desire that would make your trip unique and unforgettable.
---

Culinary Holidays at
Chateau de Berne
Come to the heart of Provence to discover the scenic beauty of this region while experiencing a complete culinary holiday. Enjoy the art of fine cuisine and a wine-tasting initiation in a superb private domain. The Chateau de Berne, created to provide a luxurious atmosphere, offers an elegant haven in the heart of vineyards between Lorgues and

Flayosc, representing the opportunity to experience the uniqueness and tranquility of this stunning location.
Your agency's customized e-flyer is awaiting you...
Welcome to Provence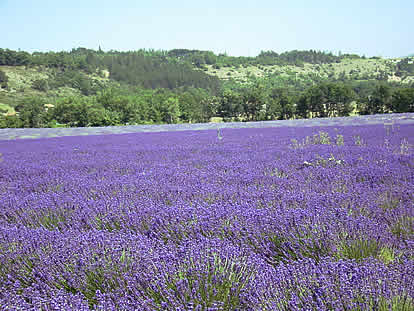 Bordered on the west by the Rhone River, which forms a natural frontier with neighboring Languedoc, Provence stretches about 150 miles to the Italian border in the east. This picturesque region offers a landscape of many distinct characters and contrasts. There are lush river valleys and alluvial plains, which follow along the sides of Rhone River. In a few miles one can move from a rocky plateau covered with lavender bushes and lulled by cicadas to the approaches of a larch forest where marmots frolic. It comprises vast protected areas where you feel you are the only person on Earth.
Embark on a journey to the South of France and discover the vivid landscapes, the intense flavors and colors, and the art of good living that make this region so spectacular. Art du Voyage offers you the best memorable holidays in deluxe hotels where you will be introduced to the most remarkable places by knowledgeable guides.
Click below for a sample of our packages
Jewels of the Riviera
Provence Discovery Tour
The Flavors of Provence
---

La Bastide de Marie - Ménerbes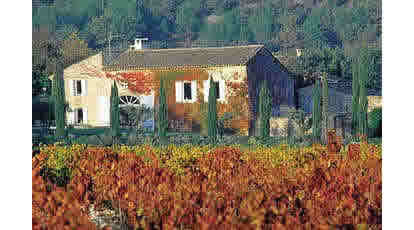 Ideally located in the heart of the regional natural park of Luberon, between Gordes and Bonnieux, La Bastide de Marie is one of the most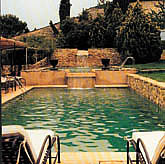 splendid proprieties in France. This 18th-century structure, surrounded by 15 hectares of vineyards, overlooking lavender fields and cherry orchards, is a standing invitation to discover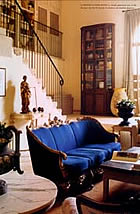 the subtle fragrances of Provence. This beautiful pro- perty shows a very elegant interior and embodies in its rooms and suites the discreet harmony of Impressionist lighting with typical Provencal furniture. A wonderful 4-course dinner, including wine made on the estate is included each evening. The charming and gracious hotel staff, lead by Mme Mireille Baud, assures memorable stays in the heart of Provence.
---

Abbaye de Sainte Croix - Salon-de-Provence

Located at the foot of the Alpilles hills, set amidst gardens of lavender and rosemary, this magnificent 12th century abbey has been lovingly restored by Bossard family from 1960 to 1970 to become now a superb 4-star hotel. It stands above the medieval city of
Salon-de-Provence, in a very quiet and remote location with a splendid view of the entire region. Aix-en- Provence, Avignon, Les Baux, Arles, and Marseille are all within a 30 to 45 minute drive. The monastery has kept its original Roman style with vaulted ceilings and small windows; it offers the same peace and quiet of the past, when monks needed absolute tranquility for their prayers and meditation. The bedrooms, tastefully fixed up in the monk's cells, harmonize perfectly with the Romanesque architecture of the building. The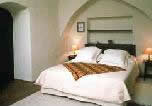 hotel restaurant has large bay windows with a panoramic view and a charming terrace where you can savor Provencal cuisine and excellent local vintages; and in the summer, the hotel guests also have the possibility to have their lunch served by the pool.
---

Hotel du Castellet - Le Castellet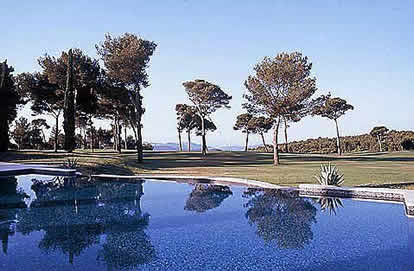 In a splendid park, the Hotel du Castellet faces the Mediterranean Sea and offers a breathtaking view over the medieval village of Le Castellet. This deluxe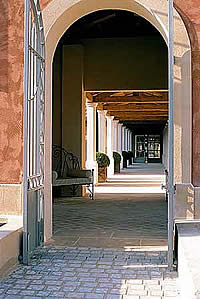 4-star hotel is a blend of Provencal country-house hacienda medina and Italian palazzo offering high level of service in a luxurious setting. All rooms and suites are facing the south and are decorated in a Provencal style, elegant and refined. A fitness center, a 4-hole golf course, an inside and outside swimming pool, and two tennis courts make the hotel a place of charm and relaxation. Each room is equipped with a private bathroom or shower with bathtub, a TV and a DVD Player, a mini-bar, an Internet plug, a telephone and fax machine, and a private terrace with view of the pool or the park. The hotel's gastronomic cuisine is served either on the main terrace or in the elegant dining room.