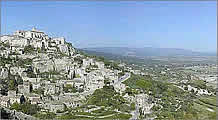 A typical view of Provence
Cooking Program
According to the season and the week theme, the following program can slightly change:
Day One: Afternoon arrival at the estate, dinner and overnight stay at l'Auberge
Day Two: Introduction to your first course and preparation of your first meal followed by lunch at l'Auberge. Afternoon tour of the estate's olive grove and vineyard, followed by a private wine tasting. Dinner at l'Auberge
Day Three: Excursion to the village of Lorgues, accompanied by Jean-Louis Vosgien to one of Provence's most famous markets followed by lunch in a typical restaurant. Then, the second cooking class in the afternoon followed by dinner at the cooking school
Day Four: Third cooking class followed by lunch at the school and an escorted visit to a nearby olive oil mill, which continues the theme of the course. Dinner at l'Auberge
Day Five: Fourth cooking class followed by lunch at the school and afternoon at leisure. Dinner at l'Auberge
Day Six: Departure from the estate after breakfast to Marseille airport
Minimum and maximum number of students: 10

---
Five nights accommodation at Chateau de Berne
Daily breakfast, lunches and dinners at l'Auberge. On one day, a lunch will be arranged in a typical restaurant in Lorgues
A private wine tasting
Four cooking classes led by French Master chef Jean-Louis Vosgien in his typical Provencal bastide
Excursion to one of the Provence's most famous markets and visit to a nearby olive oil mill
Roundtrip group transfers from Marseille airport
Hotel service charges and VAT
Price for 6 days:
Based on a participation of 10 people, and subject to change due to currency exchange rate:
Low Season (01 March-09 April 2004 & 25 September-01 November 2004): $2920 per person, double room occupancy. Single: $3460
Mid Season (10 April-09 July 2004 & 28 August-24 September 2004): $3080 per person, double room occupancy. Single: $3710
High Season (10 July-27 August 2004): $3260 per person, double room occupancy. Single: $4090
---
Taste of Provence
6 Days / 5 nights
Discover the Chateau de Berne and his famous cooking school, located in the middle of the vines in a private domain of 650 hectares, between Lorgues and Flayosc in the heart of Provence.
Experience the art of fine cuisine and good living in the sunny south of France…join renowned chef Jean-Louis Vosgien's, to discover the delights of herb-scented hills, lavender-laced countryside, and ancient hilltop villages…learn the secrets of French country cuisine during four instructive and enjoyable cooking lessons… four days of creative cuisine on different theme in the middle of thyme, rosemary, vineyard and olive trees...enjoy the pleasure of cooking differently in beautiful Provence, with olive oil, with wines, with seafood and country fare...learn the skills and recipes of your chosen course, and each day have dinner on a meal that complement the theme of your study...enjoy the excursions to lively local a market in Lorgues with Jean-Louis Vosgien's to select the day's ingredients used during the animated cooking sessions, a traditional Lorgues' restaurant for lunch, as well as a tour of Château de Berne's vineyard, cellar and a wine-tasting initiation.
A shaded terrace allows the guests to take the meals by the garden, privileged moment to savor a white, red or more pinkish wine of the Chateau de Berne.
---
Chateau de Berne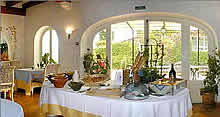 The hotel restaurant Les Glycines, formerly a coaching inn and a hostelry from 1862 onwards, is a picturesque house in the heart of Périgord Noir, the most historic region of Dordogne. Situated in LES EYZIES, the capital of prehistory, the hotel has 23 bedrooms, with a swimming pool and magnificent grounds planted with trees a hundred years ago. You can expect a warm welcome,
delicious food and personal, attentive service. Famous customers have tasted the charms of Les Glycines: Prince Charles, Christian Jacques, Bob Castella and Guerlain, who was inspired by the spot to create a perfume. All the rooms have been renovated, each with its own individual warmth and comfort. All have telephone, modem socket, satellite TV, bathroom, toilet and hairdryer.

---