Passion Parisienne

Coming soon,
enter our contest for
A CHANCE TO WIN A TRIP
to spend
Valentine's Day in Paris (roundtrip airfare included)


SPECIAL OFFER

Coming soon, a special
Travel Agent Promotion:
4 days at $499
in your choice of: Florence, Paris, Rome, Venice, or Cannes

---
Switzerland Discovery
Switzerland is a small, landlocked country set amid mountainous terrain in the heart of the European continent. The fusion of German, French and Italian ingredients has formed a robust national culture, and the country's alpine landscapes have enough zing to reinvigorate the most jaded traveler. The country hosts many lakes, from the large Lake Geneva to hundreds of tiny little


lakes in the mountains. Come to this stunningly beautiful land, where mountains and lakes are unmatched in all Europe. On this tour you will see the best of both in a glorious introductory visit to this country.
---
French Rail Cruises:
A new art of traveling
Let yourself be transported to a refined world of luxury. Move from city to city along France's provincial railways in absolute elegance style and ambiance. Take advantage of the ever-changing panorama of authentic scenery. For a trip to experience the French countryside in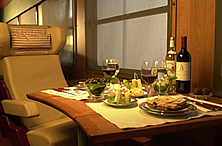 a refined setting, French Rail Cruises is the ultimate choice. This specially designed train cater only to 22 guests. The lounge carriage of light wood paneling and ivory leather upholstery, invites you to recline in generous armchairs, discreetly arranged in pair to chat, read, or simply relax and watch France go by. The bar carriage and its area offers an extraordinary range of fine wine, champagne, spirits, hot beverages, and fruit juices, as well as an array of tasty appetizers, in a cozy setting. Each itinerary is carefully constructed around a particular theme combining culture and "art de vivre" and includes the following:
- Flights within France
- Accommodation in luxurious pro-perties
- American breakfast
- Individual transfer upon arrival
- Luggage transfer from one hotel to the next
- Cocktail lunches on board the French Rail Cruise train
- Gourmet dinners, including wine, at each stop over
- Permanent e-mail reception service
- Entrance fees to the sites during excursions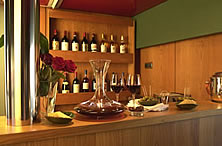 Traveling with French Rail Cruise is the best way to guarantee a truly extraordinary journey in the most exceptional condition. The entire train may be reserved for your private group as well, should you wish to construct your own personalized itinerary, Art du Voyage will help you to organize your dream vacation, maintaining the integrity of exceptional services.
Contact us for more information
---
Central Europe Discovery
Central Europe lies in the geographical heart of the continent but stretches largely behind the former Iron curtain. After the late eighties wiped out communism from the map of Europe, rapid changes began. Today, the historical cities of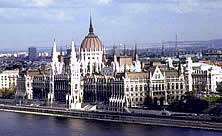 Prague, Vienna, Budapest, are diverse places with a common heritage. Each is influenced by its natural environment and represents a different aspect of the Central European soul. Discover the treasures of Czech Republic, the monasteries of Austria and the grandeur of Hungary. Cultivate their art, architecture, history and lifestyles, and understand their variations and the shared traditions of the Central Europe.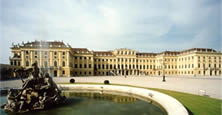 ---

Perigord Gourmand
Come to the Southwest of France, a scenic region well known as a haven of well-being, fine cooking, and a land of fine wine. Lose yourself in the middle of hilltop villages and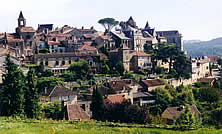 medieval castles, while spending 4 half-days with Master Chef Pascal Lombard. Enjoy the art of fine cuisine in the hotel-restaurant Les Glycines, a picturesque house in the heart of Perigord Noir. Savor the history and beauty of Dordogne Valley, as well as the flavor of the deep French countryside.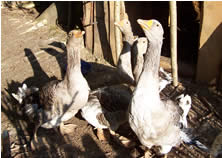 Your agency's customized e-flyer is awaiting you...
"Wine is constant proof that God loves us and loves to see us happy"......Benjamin Franklin.
Welcome to Wine Heaven
Imagine, a wine tour holiday, focusing on what you really like best. In most cases, your holiday will be greatly enhanced by the presence of an experienced specialist guide, who will be able to offer expert insights and useful tips along the way. Art Du Voyage proposes delightful tours with some real treats for wine lovers. We offer in our package itineraries wonderful sightseeing including guided visits to vineyards, offering the opportunity to sample the local wines.
So if you want to impress the sommelier on your next restaurant visit, read on and click the tour of your interest for more details.
Click below for a sample of our packages
Wines & Vines
Grapes in the South West of France
Harvest in Burgundy
Vineyards & Gastronomy in Alsace
---

Chateau de Gilly - Vougeot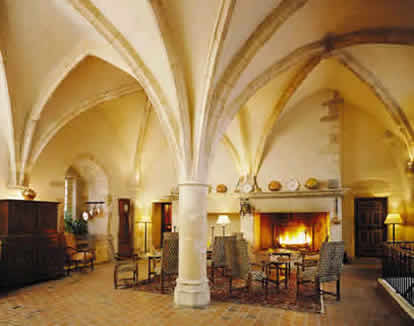 The Château de Gilly stands in the heart of Burgundy's Grands Crus between Dijon and Beaune. Indeed, its history and its presence are the very essence of the region. Its 14th century Cistercian origins contrast with the ornamental style of the 17th century to provide a palatial residence standing in formal "à la Française" gardens. The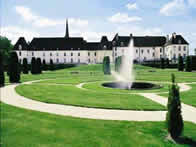 estate includes several historic buildings displaying centuries of superb craftsmanship, such as the stone-vaulted cellar, now transformed into a restaurant, which is linked by tunnel to the main building. The cuisine and the wines are a gastronomic experience never to be forgotten - a worthy tribute to Burgundian culture. As one would expect, the hotel arranges a variety of cultural tours in the footsteps of St Vincent (patron saint of winemakers) but there are also many other colorful events that exploit the dramatic features of this fascinating property.
---

Sofitel La Cloche - Dijon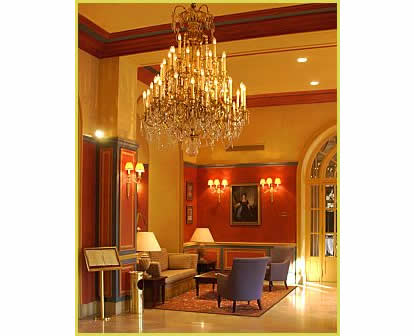 Located in the heart of the city of Dijon, capital of the dukes of Burgundy, a few steps from the historical center, and the museums, the Sofitel La Cloche reserves a charming and refined welcome in a rare timeless and warm atmosphere. This hotel, built in 1884, is listed as a heritage monument. The property houses 53 rooms, 15 suites and apartments, 1 bar, a fitness center,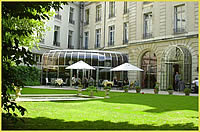 and 2 restaurants. All the rooms evoke the tranquility, the harmony and the peace of sunny countries. Located under an impressive stone vaulting, the restaurant "Les Caves de la Cloche" features the cuisine of this famous French region with a choice of 100 wines and gastronomic meals accompanied with regional songs every evening. The restaurant "Les Jardins de la Cloche," situated under the glass roof facing the garden in a relaxed atmosphere, features a menu evolving creatively with the seasons. The chef knows how to tempt your palate with an imaginative cuisine respectful of true tastes and traditions.
---

Philippe Le Bon - Dijon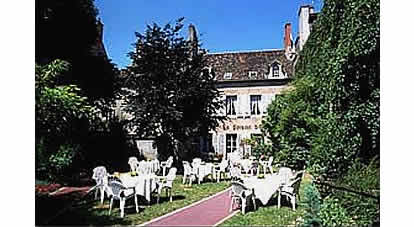 Nestled in the historic heart of the city of Dijon, this charming hotel reflects the best of Burgundy and its distinctive lifestyle. The property comprises three residences from 15th, 16th and 17th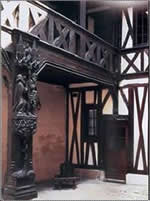 Century surrounding a garden and a Gothic courtyard, and has 32 quiet, comfortable rooms with mini-bar, direct-dial telephone and cable TV. Its gourmet restaurant "Les Oenophiles," upholds the region's culinary reputation and offers gastronomic menus inspired by the seasons accompanied by wines chosen by the sommelier. The hotel also features a wine museum and a figurine collection that show the most important time periods of Burgundy.
---

We welcome your clients' feedback
All of us here at Art du Voyage value your clients' comments. We want to hear about their travel experience and we appreciate their ideas and suggestions. Our goal is to always deliver an extraordinary level of service and to completely satisfy them. Their feedback helps us to conti- nuously enhance our performance and provide the good and reliable service they expect and deserve.