---
........The Art du Voyage monthly link with travel agents........
---
Win a trip
to spend Valentine's Day in Paris

Passions Parisiennes
Enter our contest for a chance to win a memorable journey to Paris, the City of Light, the City of Romance, the City of Love. Fly Air Tahiti Nui from Los Angeles to Paris and spend 4 nights at the wonderful Hotel Pont Royal. Simply book and confirm a package (5-night minimum required) between September 15th & December 15th 2004.
To get more detail on the itinerary, please click here
---
---
Heart of Europe

Are you planning a trip to central Europe? Discover the stunning beauty of a historic kingdom called Austria in the very heart of Europe.
Throughout this picturesque country, you will find a rich cultural heritage, a genuine hospitality, many sightseeing and spectacular sceneries to discover.
As a short break, the Austrian cities of Vienna and Salzburg make an ideal combination; one is magisterial and elegant, the other gives the idea of the fairytale town, nestled into the mountains as if it were carved from some romantic fantasy. Vienna is the capital, hub of the country's musical life, where a sense of affluent leisure permeates the city. Salzburg is one of those places to which even the most beautiful postcard can not truly do justice.


Music, art and architecture reach baroque perfection in this city of Mozart. A scenic train journey connects the two cities in only three hours. So come to this picturesque country and find the rhythm of a daily life that has a musical beat.
---

Christmas
Market Tour
In November and December, Christmas markets across Europe emerge in a colorful array of booths offering ornaments, unique gifts, sweets, sausages, and hot spiced wine. The countries of Eastern Europe join in this festive tradition, providing their own regional flavor to outdoor Christmas shopping.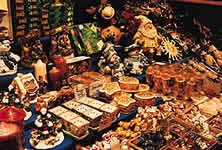 Budapest straddles the banks of the majestic Danube giving the "Old World" charm with cobblestone streets, cathedrals and original architecture. The city has a personality which contrasts beautifully in style and geography. Its Christmas Market is on Vaci Utca, the main shopping street, and offer porcelain and jewelry, plus hot spicy sausages and traditional Christmas cake. Activities include Hungarian folk dancing and carols.
Prague is the city of bridges, gold-pleated towers, domes of churches, and full of architectural treasures in the historic centre. Christmas in Prague is a special time of year, a key ingredient in the local Czech festive magic. The Prague Christmas markets consist of rows of brightly decorated wooden huts, selling Czech handicrafts, hot sausages and warm drinks.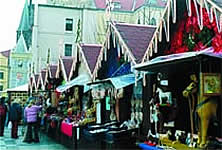 Welcome the winter holiday season with a visit to the Eastern European Christmas markets and take part of the journey as you enhance your experience with tours of Europe's most picturesque cities.
---

Vatican City Discovery
Known as the Eternal City, Rome has centuries of history. The Vatican City lies close to the Tiber in central Rome and is a fully independent state created in 1929 as a consequence of the Lateran Pact between the Italian Kingdom and the Catholic Church.


The Vatican's art collections are among the greatest in the world and the most celebrated in Europe since the beginning of the 16th century.
Spend a full week dedicated to discovering this holy place…walk along overwhelming galleries showing the talents of brilliant artists, beloved by the Popes… discover ancient statues that influenced the evolution of young Michelangelo... visit the largest sanctuary of Christianity, Saint Peter's Basilica, where proportions appear to have been forgotten in an amazing triumph of marble, bronze and mosaic works.
Finally, don't forget the splendid Sistine Chapel, the extreme expression on Michelangelo's genius, where years of restoration work on its frescoes were completed in 1994.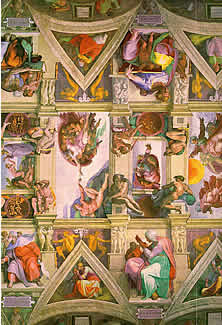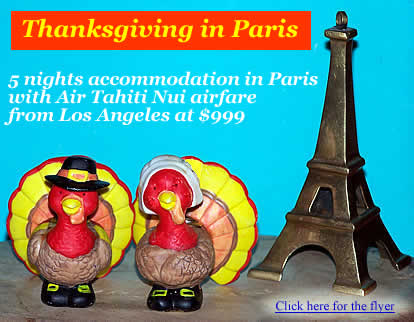 ---

Winter Holiday Packages
The crowds are gone...the prices are right...and a festive mood is taking hold across Europe...it's time to travel! With the start of fall, the European cultural season swings into high-gear with a host of fantastic exhibitions, special concerts, interesting festivals, and, best of all, off-season prices. Encourage your clients to visit Europe this year for the holidays...a festive time to enjoy the treasures of Europe at substantially lower prices.
Participate in the Edinburgh Hogmanay, the famous winter festival in Scotland with a 4-day program of events, spend a fairytale Christmas on the grounds of the fabulous Chateau de Versailles, take part in the lively Alsatian Christmas Market renowned for its decoration, its tradition and the quality of its items, or finally, feel the magic of New Year's celebration amidst the lights of Paris.
Art du Voyage offers a variety of festive programs from peace and quiet stays to programs packed with activities during the day and entertainment in the evening.
For more information on our festive special offers, Christmas breaks and New Year's Eve breaks, click below
Alsatian Christmas Market
Christmas in Versailles
New Year in Scotland
New Year in Paris
---
Trianon Palace - Versailles

Located on the edge of Louis XIV's Royal Domain, the Trianon Palace has hosted the world's political, business and arts leaders since 1910. An extensive renovation in 2001 restored the historical hotel to its original splendor. The property features 2 buildings facing each other: the main historical building, the Palace with 93 apartments and deluxe suites, and the Pavillon with 99 standard bedrooms.
The Trianon Palace welcomes guests with opulent accommodations befitting its location on the grounds of the Château of Versailles. Newly renovated guest rooms and suites feature stately décor and peaceful views of blooming gardens. All accommodations offer modern technology, exclusive bath toiletries and 24-hour room service.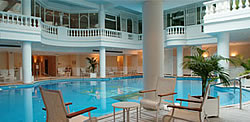 By providing many services on a 24-hour basis, this deluxe hotel has the accessibility, flexibility, and convenience to fulfill your every need, enjoy an indoor heated swimming pool or indulge yourself with a luxurious spa treatment at the Spa Trianon.
For delectable French cuisine, experience the culinary mastery of Chef Gérard Vié in "Les Trois Marches" gourmet restaurant. World-renowned chef Gérard Vié blends fresh flavors and lively colors into his exceptional dishes. You can also enjoy traditional refined cuisine overlooking the park of the Palace of Versailles at the Café Trianon or relax by the fireplace at Bar Marie Antoinette.
---
Residenza Paolo VI - Rome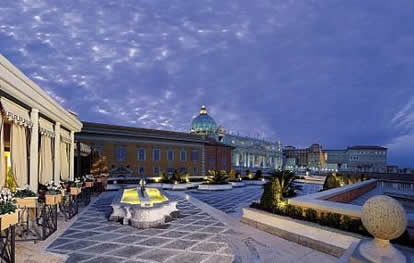 Standing directly on St. Peter's Square, the Residenza Paolo VI has been established in the premises of a monastery and has been inaugurated at the beginning of the Holy Year 2000. The Genius loci and the charm of traditions are still alive in its ancient walls, which makes this property your "private" haven in Rome.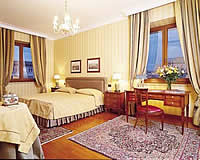 This beautiful property offers 23 comfortably furnished single and double rooms, all with shower/WC, satellite TV, direct telephone lines, mini-bar, hairdryer and, of course, air conditioning.
The panoramic terrace gives a front seat view over St. Peter's Square - some feel that they are at "the gates of heaven" with its breathtaking view of the most gorgeous square in the Western world and the Papal Palace, with the mighty dome St. Peter's Basilica towering over it - a truly unique panorama!
In the evening, the terrace's illumination, the discrete sound of classical music in the background and a wide range of drinks and cocktails are perfect for relaxing after a day full of impressions.
On the top floor of the Residenza, the "Bernini Room" invites you to have a good start into the day with a rich American buffet breakfast; and the bar service will tempt you with Italian coffee, cappuccino, refreshing drinks and a selection of light snacks.
---
Plaza Paris Vendome - Paris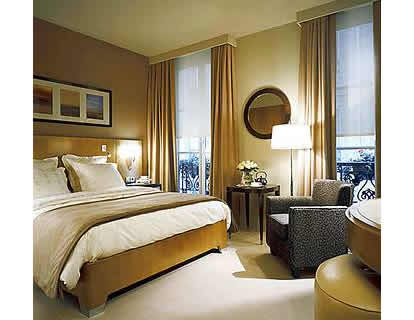 Located between rue Saint Honore and Jardin des Tuileries, adjacent to Place Vendome and Place de l'Opera, Plaza Paris Vendome is ideally situated in the European capital of culture, glamour, and fashion. This magnificent property is in a refurbished 19th century townhouse whose interior design was created by Pierre-Yves Rochon. The hotel's subdued and elegant atmosphere provides a perfect backdrop for the furnishing. In this prestigious and refined setting, the true essence of nobility is combined with modern comforts in such a way as to create a new 4-star lifestyle.
The hotel houses
97 rooms and 13 suites on its 6 upper floors. All guestrooms prioritize tranquility and functionality combined with elegance. Some with balconies and other with terraces, they are all decorated in very warm and tasteful colors, equipped with the modern facilities such as, marble bathroom, air condition, LCD TV with DVD and CD, high speed internet access, 2 lines phone, voice mail, and mini-bar.
Guests also have the opportunity to enjoy an exotic and unique "Chinese bar," a design restaurant opened 7 days a week for breakfast, lunch and dinner, and a full private fitness center with swimming pool, sauna, and steam room.
---
Channings Hotel - Edinburgh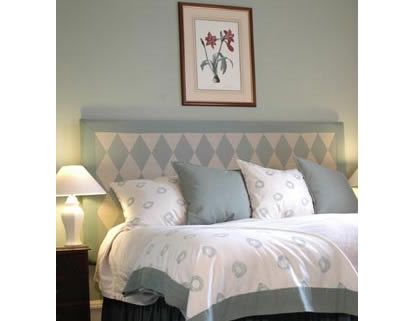 Built in 1901 as five Edwardian town houses, Channings is a 4-star boutique hotel situated in Edinburgh's city centre, just a few steps from the main shopping, sightseeing areas and historical sites. The privately owned property has been recently voted "Edinburgh Hotel of the year" and regarded as one of the finest property, where guests can enjoy the country-style tranquility. The hotel houses 46 individually decorated bedrooms, which include three suites. Guestrooms are striking yet elegant, tailored and classic with a combination of textured fabrics;
altogether providing relaxing and comfortable surroundings. Many of the rooms offer breath-taking views of Edinburgh, while others over-look the private gardens. Channings prides itself on good old fashioned service values which make this an especially excellent place to stay.
Discover in the Channings Restaurant a secret world of fine dining, and relish the experience of enjoying a luxury 7-course taster menu with Chef Hubert Lamort. You can also enjoy the modern restaurant bar, the Ochre Vita that offers the most flavorsome food in a Mediterranean atmosphere.
---

Special Travel Agent Offer:
Go to Europe for Thanksgiving for only $499!
Art du Voyage offers an incredible opportunity to travel agents… 5 very special packages only for you… a complete 4 days / 3 nights program, including tours transfers & accommodation at 4-star hotels, at the special price of $499 per person! Choose from Florence, Paris, Rome, Venice, or Cannes.
To have more detail on these itineraries, please click here
---
This newsletter is best viewed using Internet Explorer 6.0 or higher.

To view files in this newsletter
, you need Adobe Reader. If you do not have it installed on your computer, you can click on this logo to install it for free.
---
---
To unsuscribe: If you do not wish to receive our newsletter, hit "Reply" and enter "remove" in the Subject line; or click on our email address in "Contact us" and enter "remove" in the Subject line.