Château de Gilly:
Historic Residence of the Abbots of Cîteaux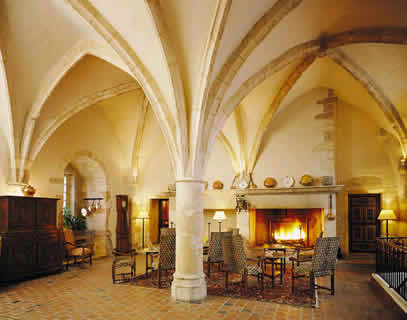 In the 6th century, Germain, Bishop of Paris, was the owner of the estate of Gilly. In his honor, the Benedictine monks built a priory. In the Middle Ages, the Abbots of Cîteaux came to live there and fortified the Priory of Gilly. This precaution did not prevent several attacks and destruction during the Hundred Years' War. In the 16th century, Nicolas Boucherat II, 51st Abbot of Cîteaux, decided to rebuild the Château de Gilly and make it into a residential dwelling.
Château de Gilly stands in grandeur in the heart of Burgundy's Grands Crus between Dijon and Beaune. Indeed, its history and its presence are the very essence of the region. Its 14th century Cistercian origins contrast with the ornamental style of the 17th century to provide a palatial moated residence standing in formal "à la Française" gardens.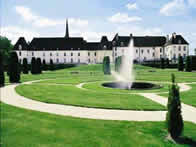 The estate includes several buildings displaying centuries of superb craftsmanship. One such is the stone-vaulted cellar, now the restaurant, which is linked by tunnel to the main building. The cuisine and the wines are a gastronomic experience never to be forgotten - a worthy tribute to Burgundian culture. As one would expect, the hotel arranges a variety of cultural tours in the footsteps of St Vincent (patron saint of winemakers), but there are also many other colourful events that exploit the dramatic features of this fascinating property. Château de Gilly is part of "Grandes Etapes Françaises" and "Small Luxury Hotels of the World."
The vineyard of Clos de Vougeot,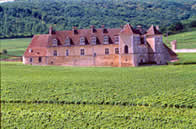 founded in 1098, is the work of the Abbots of Cîteaux. Situated between Echézeaux and Musigny, it extends from the gentle slopes of the Côte to the plains. Today, it covers 100 acres. In the hands of Cîteaux for nearly 7 centuries, the vineyard of the Clos de Vougeot earned considerable fame which has made it, along with the vineyards of Chambertin, one of the most famous in Burgundy.