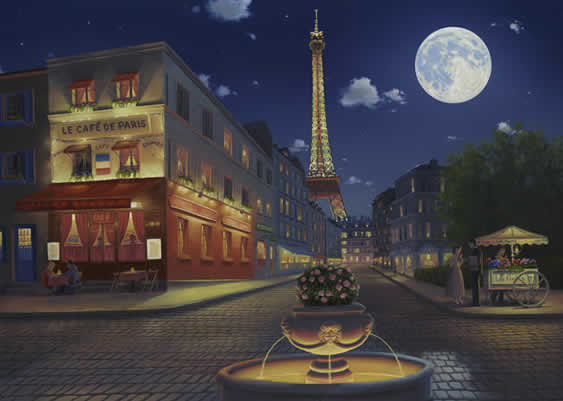 ---
Special Travel Offer
Art du Voyage offers an incredible opportunity to travel agents…5 very special packages only for you…a complete 4 days / 3 nights program, including tours transfers & accommodation at 4-star hotels, at the special price of $499 per person! Choose from Florence, Paris, Rome, Venice, or Cannes.
To have more detail on these itineraries, please click here
---
Special winter offer
At selected hotels,
stay 3 nights and the 4th is free!!
Some examples:
Residence Bassano-Paris
Villa Beaumarchais-Paris
Pershing Hall-Paris
and many more…
Contact us for more info
Passions Parisiennes
Win a trip to spend
Valentine's Day in Paris
Enter our contest for a chance to win a memorable journey to Paris, the City of Light, the City of Romance, the City of Love. Fly Air Tahiti Nui from Los Angeles to Paris and spend 4 nights at the wonderful Hotel Pont Royal. Simply book and confirm a package (5-night minimum required) between September 15th & December 15th 2004.
See below the description of the contest hotel and the airline company.
To get more detail on the itinerary, please click here
---
Special offer
from November 2004 to March 2005
Stay 2 nights and the third one is free!
---

CONTEST HOTEL
4-star Hotel Pont Royal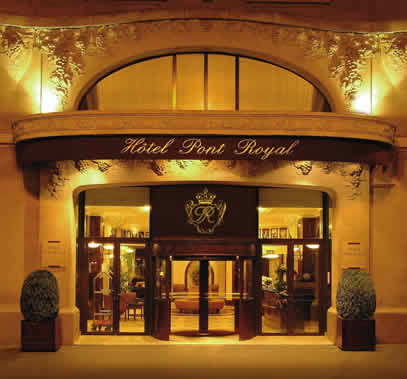 More than a distinguished address of the Left Bank combining refined decoration and thoughtful attention, the Pont Royal Hotel is a historical landmark between the river Seine and the Boulevard Saint-Germain. In the midst of the Faubourg, Arts and Letters thrive in the Salon Littéraire and the garden, where many existentialists and Nobel Prizes followed one another.
Its exclusive and intimate atmosphere is matching with an exquisite blend of contemporary and traditional design, made of mahogany wood, silks and stone. In the heart of the capital, this very special "garden" is two steps away from the Musée d'Orsay, a bridge from the Louvre, a stroll from Montparnasse and the Opéra. In this prestigious neighborhood, you find the antiquity dealers of the Rue des saints-Pères, the "Café Bohême" on Place Saint Germain des Prés, the trendy Café de Flore, and the Luxembourg Gardens which are a few of discoveries in store. The new restaurant "L'Atelier de Joël Robuchon" is next door, and the cozy bar with the lovely library, emphasizes the literary aspect of this unique hotel.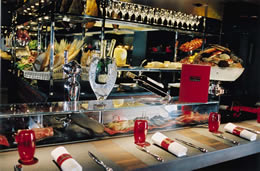 Joël Robuchon is the executive chef of the century. In his restaurant, he is launching a new interactive concept of the French Cuisine, designed around a central open kitchen, and surrounded by a circular counter accommodating up to 40 seats. It is open 7 days a week, from 11:00am to 02:00 continuously. The team made of Master Chefs is also preparing the breakfast and room service for the great pleasure of the guests at Hotel Pont Royal.
---

Air Tahiti Nui
Air Tahiti Nui has become the premier airline of the South Pacific. From Los Angeles gateway they offer nonstop flights to Tahiti and Paris.
On every flight, Air Tahiti Nui is building a reputation for providing world-class service levels equal to the leading airlines of the world. Their service is based upon extending the warmth and ambience of their Polynesian home the moment you step on board. You will quickly see why flying with Air Tahiti Nui is an experience unique among any airline in the world.
Serving six pampered guests in a luxurious enclave, Poerava First is the most exclusive First-Class cabin over the routes that they fly. The centerpiece is the seat itself; fully reclining sleeper seats with state-of-the-art components such as a 12-inch video screen with continual first-run movies and personal in-flight telephones. All amenities are provided such as oversized pillows and blankets and soft pajamas for a restful sleep.
Their meal plan is based on the standards of five-star restaurant and designed by a staff of internationally acclaimed chefs. First and Business Class meals are individually served to specific requests and the wine list of famous vintages is personally selected by a Parisian sommelier.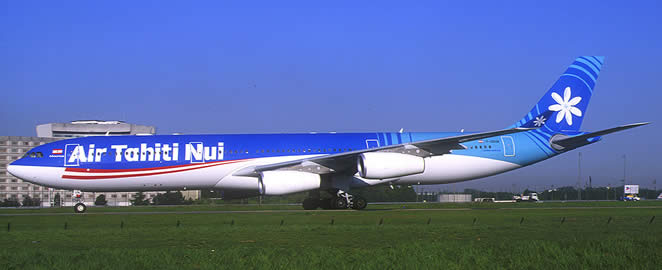 ---
This newsletter is best viewed using Internet Explorer 6.0 or higher.

To view files in this newsletter
, you need Adobe Reader. If you do not have it installed on your computer, you can click on this logo to install it for free.
---
---
To unsuscribe: If you do not wish to receive our newsletter, hit "Reply" and enter "remove" in the Subject line; or click on our email address in "Contact us" and enter "remove" in the Subject line.
---