This fall, drive through Scotland and stay in castles and manors
---
BONUS COMMISSION!
Earn a $25 bonus commission sent directly to you for all new bookings in August and September.
---

"We had a wonderful time in France, due in large part to the arrangements you made. Olivier in Paris was wonderful, and when we wanted a special guide for a walking tour of the Marais (at the last minute) he found us Antoinette, who was wonderful. Olivier was also very accomodating about providing extra drivers, etc as our plans changed. We were able to be spontaneous and at the same time have all the assistance we wanted.
Martine who guided us on the Lyon-Provence leg of the trip was delightful. She was very entertaining and gracious and did a fine job of keeping both parents and teenage sons happy.
Your suggestions about accommodations and restau-rants were right on the mark. We wish we had listened to you and Roberto (travel agent) and stayed at La Mirande in Avignon. However, that will give us an excuse for another trip. I would wholeheartedly recommend your services to anyone and would certainly want to use you the next time we go to France."
Sincerely,
Judith W, Texas

---


"Hello!......Let's see, at the end of November?......No problem, just tell them to join us for Thanksgiving......in Provence!......Oh, for a week......No, we'll take care of everything......Touring with a guide, wine-tastings, gourmet dinners, the works!......They'll have Provence to themselves......In a cute boutique hotel in Arles, and then in an historic chateau......I knoooow! Me too......Well, that's the whole idea, right?......"
---
Hotel Londra Palace: A Luxury Hotel in Venice for the 21st-Century

In the year 1860, there was great excitement in Venice for the opening of a new hotel on Riva degli Schiavoni, just a few steps from Piazza San Marco: the grand five star Beau Rivage. It had been designed by Fuin, a famous Venetian engineer of the period, in neo-Lombard style with white marble from Istria. It later became the actual Hotel Londra Palace.
Its elegance, not to mention the evocative view on the Lagoon and on the island of San Giorgio, accompanied by typical Venetian melancholy, inspired the first three movements of Tchaikovsky's Fourth Symphony, first called "Do Leoni" in honour of the lion of San Marco. This masterpiece was composed in room 106, as the pictures and souvenirs left to the Hotel by the Russian government witness. It is a room full of history and emotions bringing some guests to state that they were awakened in the middle of the night by a weak light and barely noticeable music. Could this be true or are they dreaming?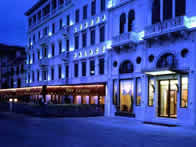 In March 1999, the Hotel Londra Palace completed the extensive restoration of its interiors and the facade, a project that began in 1992 and cost eight million dollars. The first phase of the job was to turn the 73 rooms into just 53, adding more comfort and luxury like marble in the bathrooms. The remarkable restoration left the hotel's history, personality and architecture intact, while offering all the up-to-date amenities of a 21st-century luxury hotel.
---