---
........The Art du Voyage monthly link with travel agents........
---
---

Happy New Year!

Dear Clients & Friends,

On behalf of the entire team at Art du Voyage, I would like to extend our sincerest thanks for all your business and support during the last year. We have enjoyed working with you in putting together memorable experiences for your clients and hope the holidays have been a time for you to enjoy with family and friends.

We have been busy preparing exciting new travel packages to Europe for 2005 which will be featured on our website and in our new electronic brochure. With just a few clicks, you will be able to offer your clients over 40 different itineraries and packages to France, Italy and the UK. We have added some terrific new properties as well such as The Capital in London, the Chateau du Puy Robert in Southwest France, and the Albergo Pietrasanta in Tuscany.

We look forward to working with you in this New Year and wish you all much health, happiness, and prosperity in 2005!

- Christopher Thorpe -


Winter PromotionRoom upgrade till March 31
More >>

---



Join us
for a training seminar
featuring the beautiful region of Provence

- 25 January: Denver
- 26 January: Portland
- 27 January: San Jose
- 28 January: San Francisco

For more Information, contact Nathalie at the French Government Tourist Office at 310-271.2693.
Email: marketing.la@franceguide.com
---

!!!Congratulations!!!
Art du Voyage is delighted to congratulate the winner of our fall booking contest: a free trip to Paris for 2 persons for the 2005 Valentine's Day… "Amber Ringler of En Route Travel in Pacific Palisades, California."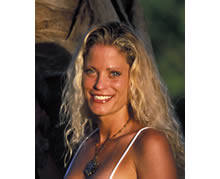 Amber has been with En Route Travel for eight years. She has traveled to France only once in 2001 and is a travel lover. Last year, she went to Tahiti, Samoa, Bali, Timor, and Cabo San Lucas, and looks forward to spending a lot of time in Europe in 2005.
"I have been to France only once and I have always wanted to go back. I was in Paris for five days and then went down to Biarritz for ten days. I loved France! Biarritz and the Basque region was my favorite. I loved the surf community up and down that stretch of coast. St-Jean-Pied-de-Port and St-Jean-de-Luz were also so beautiful! Thanks for the opportunity to return to France!" - Amber -
---

Celebrate Easter
in the Vatican City

In Rome and especially Vatican City, there is a series of solemn events to commemorate Easter - a mixture of ancient culture and modern religious - that culminates in Easter Sunday Mass. Enjoy two guided tours of Rome,


including the archaeological excavations under St. Peter's Basilica. Watch and participate in a variety of Easter ceremonies and processions and dine on traditional holiday fare. The Easter festivities also take the shape of a traditional cake, the "Colomba", competing with the secular chocolate eggs as the official food of the season. What could be more satisfying than touring Rome to see the fabulous art, architecture and relics of the country's rich cultural past, not to mention sampling the extraordinary wines and delicious cuisines of modern day Italy?
---

Art and History
in Cultural France
The Cathedrals of France will take you to fascinating regions to visit the most beautiful basilicas and famous burial sites for French monarchs. Let yourself captivated by the French culture and its great history with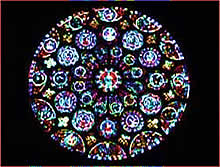 escorted excursions to choirs showing a high altar with beautifully carved serpents. You will learn about gothic art and be impressed by more than 4000 images of biblical scenes. You will visit monuments built on the traditional coronation site of the kings of France and discover fine art galleries with impressionist, contemporary and Victorian paintings. Join the Cathedrals of France for a fantastic cultural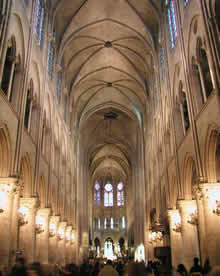 experience that ends with the monumental façade of Notre-Dame de Paris.
---

The Light of Provence

This is Provence at its most picturesque! Our goal is to give you a rich and rewarding experience you will remember for years to come, and the opportunity to explore this dazzling region like no one has offered you before. The Provencal villages that we have chosen in our itineraries are graded as among the prettiest of France and surrounded by its most picturesque countryside. This unique region of France is intriguing by its many different characters: the verdant beauty, the stunning gardens, the colorful


villages, the lavender fields, the vine covered hills, and obviously the love of good food and wine. Experience the renowned warm and friendly welcome of Provencal people, discover the intense flavors and colors, and the art of good living that make this region so spectacular.
Welcome to England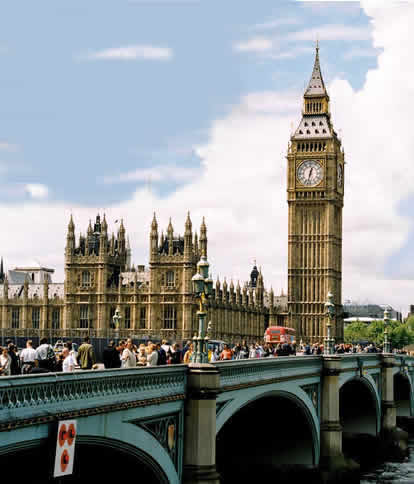 England itself is made up of four quite distinctive areas: The South, the East, the Heart of England and England's North Country; each offering something unique and exciting: majestic moorland and craggy peaks, lush green fields and fens, wide sandy beaches and quaint fishing villages. But England is not just countryside; there are elegant, refined and historic cities with Roman, Georgian, Tudor and Victorian influences;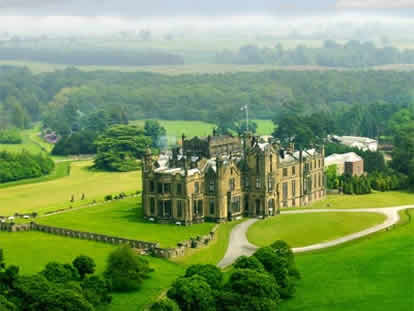 architectural splendors, vibrant cities with museums and cathedrals, art galleries, modern trendy restaurants, nightlife and some amazing theater. Whatever quintessentially English characteristic you crave: afternoon tea, cricket on the village green, a walk along the promenade or great shopping, England has something for everyone.
Our itineraries will take you on a paradisiacal tour of special parts of England that have been attracting visitors for centuries. Whether you are looking for a romantic escape, a family break with children and grandparents, or a cultural journey, you will live a unique and unforgettable experience, allowing you to discover the best of England!
Classic London
Chelsea Flower Show
North Country Driving Tour
Heart of England

---
The Capital - London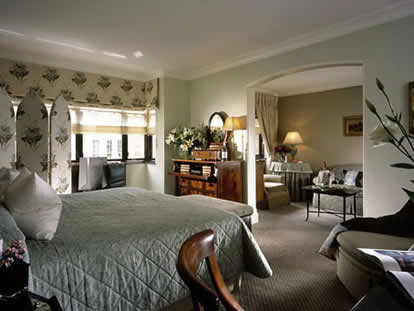 Situated in the heart of Knightsbridge just a few steps from Harrods, The Capital offers luxury accommodation and personal service within the ambience of a much-loved home. A liveried doorman greets you and welcoming courteous staff awaits to whisk away baggage before escorting you to the comfort of one of the 49 individually designed air-conditioned suites and bedrooms. Guestrooms at The Capital are elegant and supremely comfortable, each with their own specially selected fabrics, wallpaper, objects d'art and original paintings. Magnificent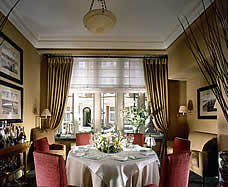 solid marble bathrooms are equipped with well proportioned bath as well as powerful showers. The Capital restaurant is legendary. From its opening in 1971, it became one of the first hotel restaurants in Britain to be awarded a Michelin star. In 2001, the restaurant and Head Chef Eric Chavot were awarded a second Michelin star which is retained to this day. The restaurant and bar have recently undergone major re-design and now sport a suave, elegant, luxurious yet understated look inspired by 1940's. Regularly attracting gourmets from around the world, both are a favorite meeting place.
---
Villa St Elme - Provence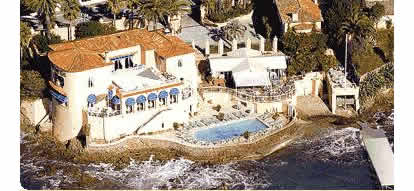 Located between Saint-Raphaël and Saint-Tropez, in the heart of the Bay of Les Issambres, the Villa Saint-Elme draws its pink walls between pine trees, palm trees and flowered gardens, overlooking the Mediterranean Sea. Thanks to its exceptional geographical position, this luxury property enables you to spend unforgettable holidays in an exceptional atmosphere. The property used to be the summer home of famous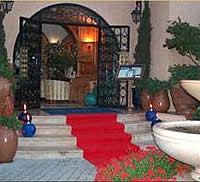 actors and artists back in the 1930's: Edith Piaf, Maurice Chevalier, Tino Rossi and many others. A total of 17 rooms, two restaurants, a Salon Bar, a health & beauty corner equipped with sauna, a Turkish bath, massages, a seawater swimming pool & two private car parks constitute a "Haven of Peace" in the sunny South of France
---
Residenza Paolo - Rome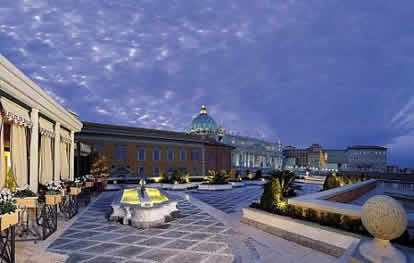 Standing directly on St. Peter's Square, the Residenza Paolo VI has been established in the premises of a monastery and has been inaugurated at the beginning of the Holy Year 2000. The Genius loci and the charm of traditions are still alive in its ancient walls, which makes this property your "private" haven in Rome.
This beautiful property offers 23 comfortably furnished single and double rooms, all with shower/WC, satellite TV, direct telephone lines, mini-bar, hairdryer and, of course, air conditioning. The panoramic terrace gives a front seat view over St. Peter's Square - some feel that they are at "the gates of heaven" with its breathtaking view of the most gorgeous square in the Western world and the Papal Palace, with the mighty dome St. Peter's Basilica towering over it - a truly unique panorama!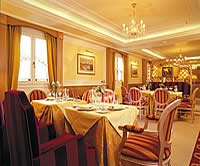 In the evening, the terrace's illumination, the discrete sound of classical music in the background and a wide range of drinks and cocktails are perfect for relaxing after a day full of impressions. On the top floor of the Residenza, the "Bernini Room" invites you to have a good start into the day with a rich American buffet breakfast; and the bar service will tempt you with Italian coffee, cappuccino, refreshing drinks and a selection of light snacks.
---
Special offer
from November 2004 to March 2005
Stay 2 nights and the third one is free!
---

Agent Fam Package:
Go to Europe at Winter Vacation for only $499!
Art du Voyage offers an incredible opportunity to travel agents…5 very special packages only for you…a complete 4 days / 3 nights program, including tours transfers & accommodation at 4-star hotels, at the special price of $499 per person! Choose from Florence, Paris, Rome, Venice, or Cannes.
To have more detail on these itineraries, please click here
---
---
This newsletter is best viewed using Internet Explorer 6.0 or higher.

To view files in this newsletter
, you need Adobe Reader. If you do not have it installed on your computer, you can click on this logo to install it for free.
---
To unsuscribe: If you do not wish to receive our newsletter, hit "Reply" and enter "remove" in the Subject line; or click on our email address in "Contact us" and enter "remove" in the Subject line.